Pool Registration System for NSW: NSW Fair Trading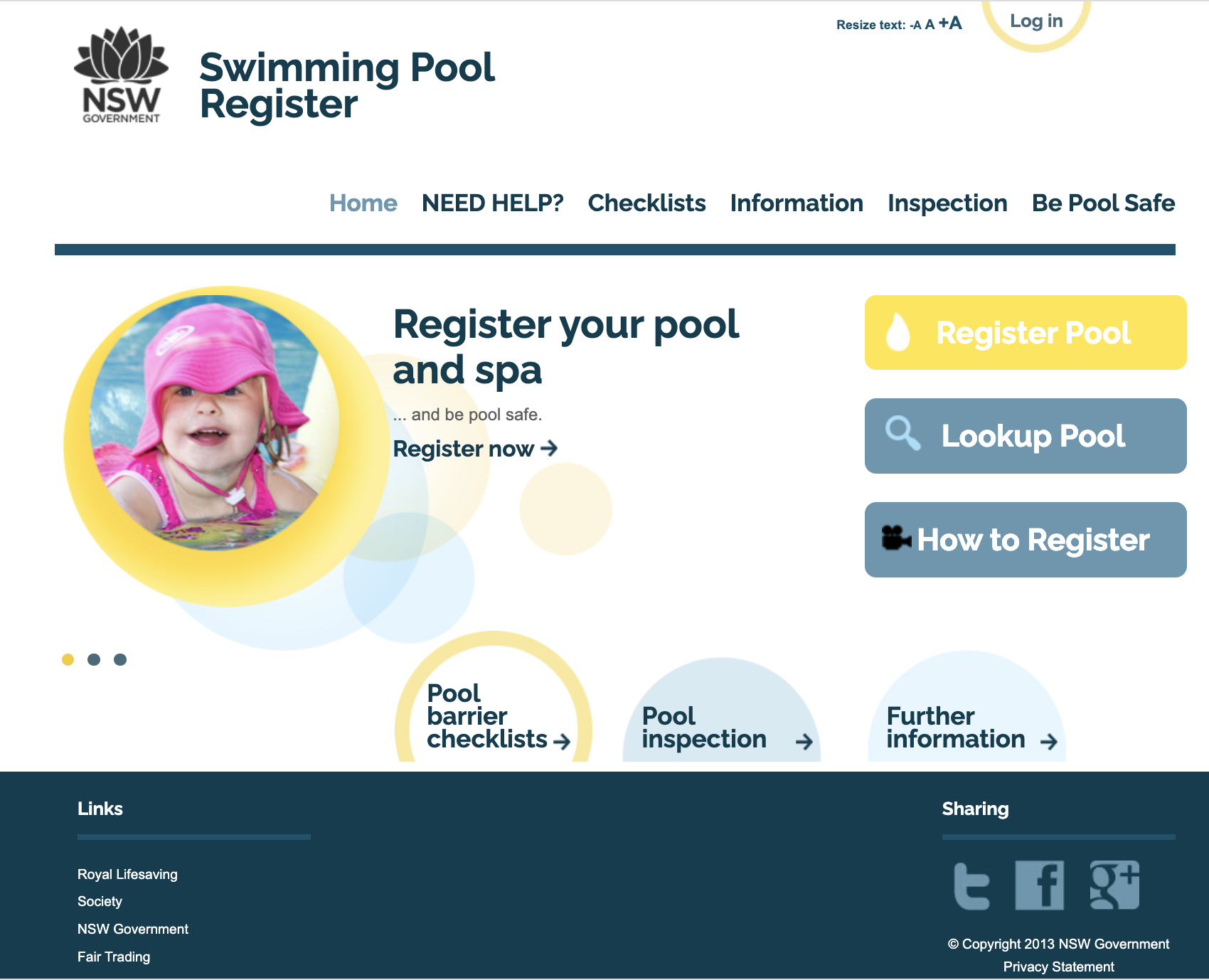 The Problem
In New South Wales, the alarming number of children admitted to hospitals following near-drowning incidents urged the need for stricter safety measures around pools. The NSW Swimming Pool Act was enacted to enforce the registration, inspection, and certification of pools to ensure their safety. The NSW Fair Trading faced the challenge of implementing a pool registration system within a short timeframe, while ensuring cost-effectiveness and compliance with data protection laws.
The Solution
To address the requirements, PretaGov conducted a Discovery phase to understand the complex user scenarios and legislation. Through collaboration with stakeholders, use cases were identified, leading to the documentation of requirements and wireframes for the system. Within three weeks, a rapid prototype (Alpha Phase) was built and tested by end users. Feedback was incorporated iteratively until a fit-for-purpose version was ready for launch by the mandated enactment date, relieving the NSW FT of political pressure.
The first week of the system's launch witnessed an enthusiastic response, with over 50,000 pools registered. The system efficiently handled peak loads and resource-intensive backend processing and storage, while ensuring performance. The online Register replaced costly manual paper-based processes and also served 182 Local Councils and inspectors for over-the-counter registrations and mobile record updates.

Data Security and Compliance
The Register strictly adheres to data protection laws, given the storage of personal information. PretaGov's Government Cloud delivers the solution, meeting all government standard cloud security requirements. This approach proves more cost-effective than dedicated self-hosting solutions, ensuring robust data security and compliance.
Technical Complexity and Efficiency
With approximately 30 individual forms and integrations with the Land Titles database for property information extraction, the solution effectively manages administrative costs. The Register generates PDF certificates for pool owners, streamlining processes and reducing paperwork.
The Outcomes
PretaGov's Plone CMS empowers Fair Trade administrators to modify forms and content within the web application independently, eliminating costly and time-consuming change requests. PretaGov handles the software management, hardware infrastructure, peak load management, and cloud hosting, ensuring a seamless user experience. Ongoing improvements and Act changes are implemented aiming to minimise drowning risks.
Conclusion
The secure pool registration system developed by PretaGov has successfully enabled efficient registration processes, compliance with data protection laws, and cost-effective cloud-based deployment. The solution has simplified administrative tasks, reduced paperwork, and facilitated better management of pool safety. The collaboration between PretaGov and the OLG continues to ensure continuous improvement and mitigate drowning risks.

Visit the NSW Swimming Pools Register.